The key to nailing guitar songs is to have good knowledge of chords. Here I've provided a bunch of easy guitar chords for you to refer to. Once you have some of these chords down, head on over to tackle some easy guitar songs (click here).
How to read easy guitar chords
Here is how to read guitar chords. The image below does a very good job of explaining how to do so. The numbers are to tell you which finger to put where. The index finger being one, the middle 2, the ring finger 3 and the pinky 4. The x is not supposed to be strummed but the O is.
Firstly, the most simple chords on a guitar are the open chords. These easy guitar chords revolve around having open strings (hence the name).  Here is a chart showing the most easy open chords. The open chords come in both major and minor chords. Here I have provided 5 major chords and 3 minor chords.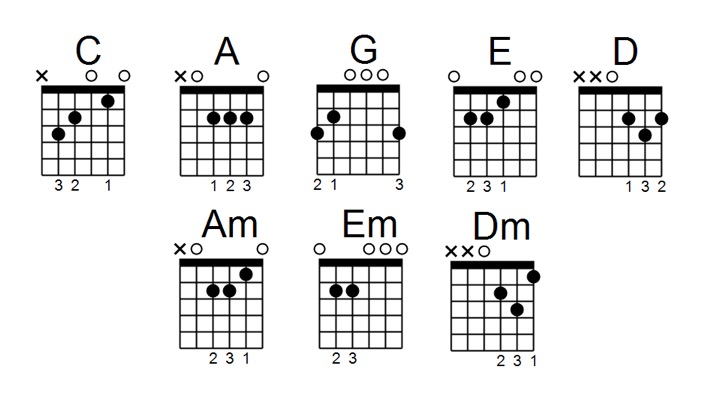 Next up in open guitar chords you'll want to learn open 7th chords. These chords are specifically called dominant 7th chords. Again the fingering is shown here and what open strings to play (o) what not to play (x).
With these easy guitar chords you should be able to tackle some of easy guitar songs!
Items for Page: There are no posts that match the selection criteria.